My life changed in the 7th grade when I was given the assignment to read the Hobbit for my English class. I poured through unlike any other book I had been asked to read before. I read it a few more times and shortly after moved on to the Lord of the Rings series. (I should write a blog about how the recent Hobbit films have crapped on those childhood memories)
When that same teacher introduced me to Dungeons and Dragons in an after school group- well, I was hooked. I went full on nerd. That completely innocent awe in the idea of the grand adventure is something I have held on to with tooth and nail even into my 40s. Now I am lucky enough to illustrate for games much like those that first captured my imagination when I was a kid.
I heard today that D&D artist
David Trampier
died at the early age of 59.
As a painter, I like to champion the masters as inspiration. The great painters of the Renaissance thru the 19th century. In illustration the greats of the golden age often come up: Rockwell, N.C. Wyeth, Lyendecker, Gibson, Rackham, and Frazetta.
I have to say that some of the lesser know artists of the early D&D publications also had a tremendous influence on who I am today, including the work of David Trampier.
Above is one of Trampiers most famous covers. He did a lot of the more striking interior pieces in the old Monster Manual as well.
His graphic and simple pen and ink interiors influenced me and many of my current illustration heroes.While at times a bit crude, his work had a wonderful graphic quality which was clear and descriptive. Often he was introducing us to weird fantasy creatures for the first time.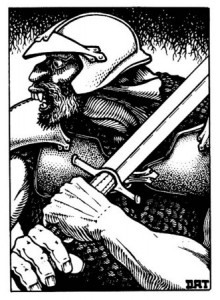 A few years ago I was asked to do a serious of black & white silhouette art for a game offering new look at old school D&D. The game is called
Roguish
and was designed by Christopher Brandon. I thought I would post a few images of the art I did for it, including this first one where I was asked to do an image completely inspired by Trampiers Players guide cover. I did a series of about 20 images that followed 4 characters through their adventures done in B&W silhouette.
The Gemstone Eye © Richard Luschek and Christopher Brandon 2014
Pumpkin Heads © Richard Luschek and Christopher Brandon 2014
The Bridge © Richard Luschek and Christopher Brandon 2014
RIP David Trampier. Thanks for the inspiration.